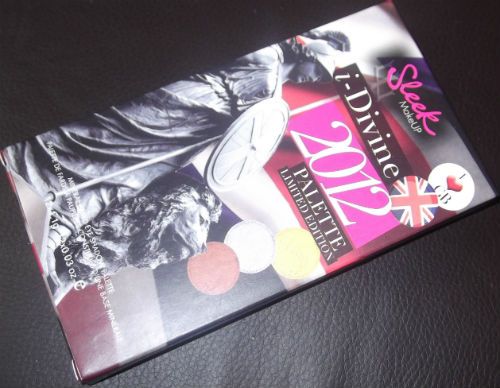 Sleeks Limited Edition Glory Palette
Hello my fellow makeup junkies, Coming back at you with another sleek eyeshadow palette review, this is the limited edition Glory palette which was brought out i suppose as a special palette for the Olympics or something, not too sure to be honest but the colours are themed on the medals so there is bronzes, golds and silvers and some other wacky bright colours thrown in the mix to give it some umf!
Personally i am a HUGE fan of sleek cosmetics and have so many of there products nearly all there eyeshadow palettes some of which i still have yet to show here on the blog. There products are amazing and so long lasting and i adore some of the newer stuff they brought out as it is rare we have such a wide selection of mainly bright colours. This palette is from a collection they brought out and i apologise for not having the other items to go with it but honestly they really were not my cup of tea.
I was sceptical when i heard they was bringing out this collection because they already have a lot of shades extremely similar in there other palettes and i was really hoping for once they would not add there usual noir into the mix as even though i adore dark makeup as much as neutral there is only so many blacks i can have! But considering i have almost all the others it is like a obsession now :D i must admit i was a little shocked at the second row of colours in this palette but none the less there stunning and right up my alley.
The Collection
This collection has been completely themed around London and i do really like the fact they have shown support by releasing it. Makes me for once feel a little bit of pride to be British. They brought out three items.
Eyeshadow Palette - Glory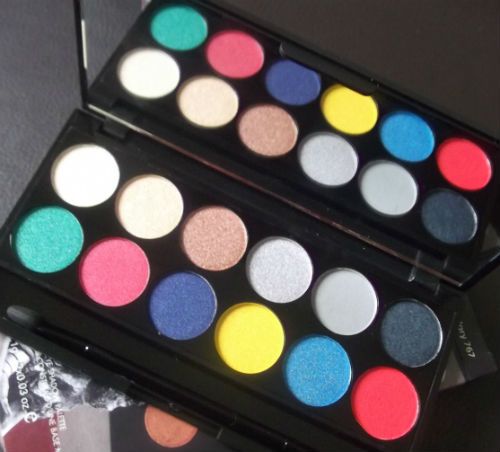 If you know the sleek line you will know that not all there palettes have been named, I really like the fact there now naming there products it makes it so much easier for me to let you know what products i have used and the shades rather than "use this red" makes it sound a bit... well you know :D
All of the shades are extremely shimmery and named after the underground of London which again is something i really like. Some of there are really metallic as well and even though the lower colours are maybe too bright for some people there still wearable colours when blending in well. Rather than some of there extreme colours, also the fact there extremely shimmery brings out the colours a lot more. I prefer it when there not matte shades as i find they flow smoother and look nicer.
SHADES
Top Line

Tube - A really pretty shimmery gold which comes out not as bright as you would believe from this photo. Once built upon it does bring out the shade a lot more especially when placed on top of a brighter colour. I love golds and when i place this on top of there metallic duo palette it really does pop the colour.

Overground - Another shimmery gold with a touch of peach but again does not come out too dark which means extra applications, The colour is a bit deceiving as you would assume it would be darker than tube but sadly not the case, still a pretty shade but picture very deceiving.

Bakerloo - Now this is right up my alley, a gorgeous bronze shade which DOES look exactly like the photo on. I personally tend to go for either brighter or darker shades and then nothing in between but slowly have been drawn to some bronzes and this is one of them. It is extremely pigmented and blends really well with the golds.

Jubilee - A really pretty silver, it looks really good when placed on there metallic duo cream eyeshadow, all the silvers really pop when placed on top of that. Really pigmented and amazing to work with. I am not a silver girl but these colours are stunning highlights or blending shades.

Platform - A matte Grey and to be honest a bit of a let down, i suppose there had to be some matte shades in the collection but i am not too keen on this shade, it is ok for blending buy grey is grey after all. Its similar to jubilee just not with the shimmer so i suppose it is a alternative.

Northern - I adore this shade it is one of my favourites of all time from sleek, i was over the moon there was no noir but instead a dark alternative. This comes out a dark shimmery aqua shade and is stunning on the eyes. Again pic deceiving but it is like that with most but definitely one to look out for in other palettes, i really hope it was not a once off.

Lower Line

District - Looks like a Christmas tree Green but it comes out a bit different yet still as pretty, This shades reminds me of one from the sparkles palette [you will see that soon in a review]. Normally not a fan of greens but must admit it is such a pretty colour and flows so smoothly on.

Hammersmith & City - A gorgeous pink which looks exactly like the swatch, I have a few favourite pinks in my collection but this is slowly becoming high on the list, highly shimmery but still with enough matte in it to not overdo the colour.

Picadilly - When i saw Northern i was over the moon but after seeing this shade i fell in love all over again, it looks bright but comes across really dark, so in this palette you have two alternatives for darker shimmery colours which will look brilliant for new year if you have this palette. Personally id find it hard choosing which shade.

Circus - After the circus palette i was not liking the fact there is a yellow in this palette, i personally hate yellows generally but this shade is pretty, not sure if i would use it but the swatch gave me some ideas for tutorials so who knows maybe i will be more drawn to it. The colour is deceiving and it comes up a bit lighter when applied.

Victoria - Love this shade it reminds me of the sea on a really good day, so pretty and shimmery and amazing when blended with some darker colours, blues normally look a bit dull with my eyes as i have blue eyes but when merged with some other colours they really pop, so definitely do not avoid blues if you have blue eyes!

Central - The only other matte shade in the palette and this time it is a vibrant red, personally i dislike this colour and think it would have been prettier if they had added shimmer to it. I am not one for non shimmer shades of red and i doubt i will be using it but i suppose we shall see.
Swatches!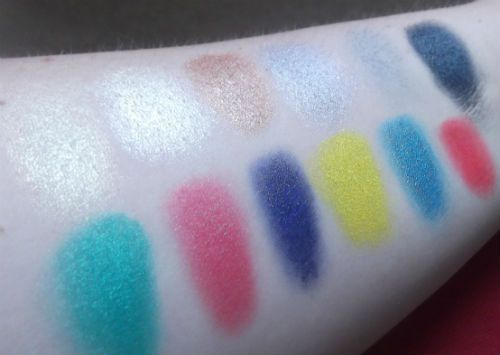 Extremely pretty shades and all of them are brilliant colours on there own and amazing when blended with each other, as i said i adore Northern, Picadilly and Victoria but i think every shimmery shade is something i like but the matte ones... not so much.
They flow on really smoothly but the matte shades take a bit of applying without a base on before hand, i decided not to apply base just to show you how pigmented they are just standing on there own. I was very shocked when i saw at how some of the shades are and i will not be applying base for some of them. Id never get them off :D
Even though they look extremely bright on the lower line as you can see from the edges they can be blended out and lightened if you wish it so, personally i think there bright shades everyone should wear at one point or another.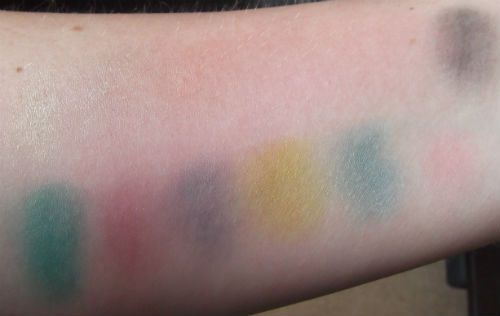 This was after i tried washing them off five times using three different soaps, in the end i tried a baby wipe as the ultimate remover for these shades and well it only resulted in me having a red sore arm and stained shades. So you can see definitely do not use primers with them before hand unless you want the colours to stick for a insane long time frame. These shades finally removed within a day and half :D
Thoughts
I adore these shades and even though i did not get the other items from the collection if you love neutral colours then definitely look into it. Affordable as usual which is what we have come to know and love from sleek and really good quality. This is one of my favourite palettes and expect a lot of tutorials coming from this one.
Do you have it yourself? what do you think?