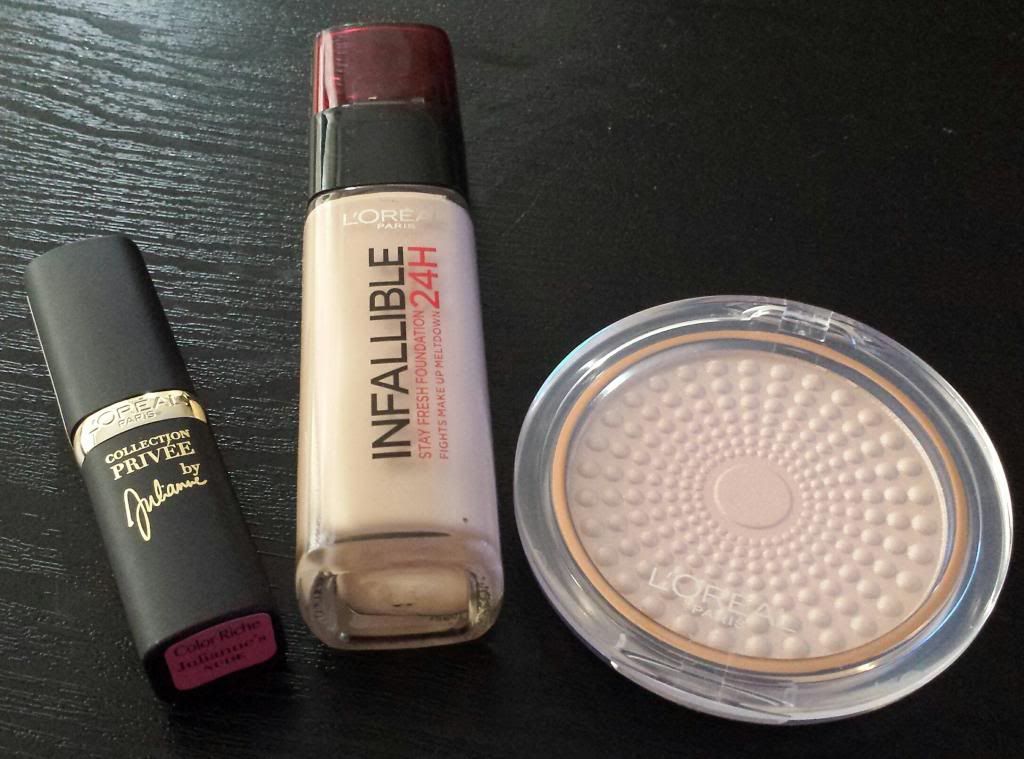 Honestly i have literally not touched a Loreal foundation for two years almost now because unfortunately i had a bit of a reaction with two of there foundations which left me a bit unsure about trying a new one. I am not saying the products were badly made or faulty in anyway as in the same year i had a reaction to another companies foundation so who knows maybe my face was just having a hateful year towards foundations in general but due to the whole experience it really put me off using a new one from Loreal. Which made it difficult to find a good foundation in the last two years and i have tried them all seriously. But this time i decided to bite the bullet and give Loreal a go once more with there foundation.
At the moment there running a 3 for 2 on all there products which is brilliant value and the selection is really good also, in the shop i went in they did not really have much to choose from in face powders, bronzers or blushes i think they had one bronze, 2 face powder/highlighters and 2 blushes both the same shade so bit unsure on that. Luckily they had the one i wanted which was a happy moment for me.
L'oreal Infallible Foundation 125 Natural Rose
£9.99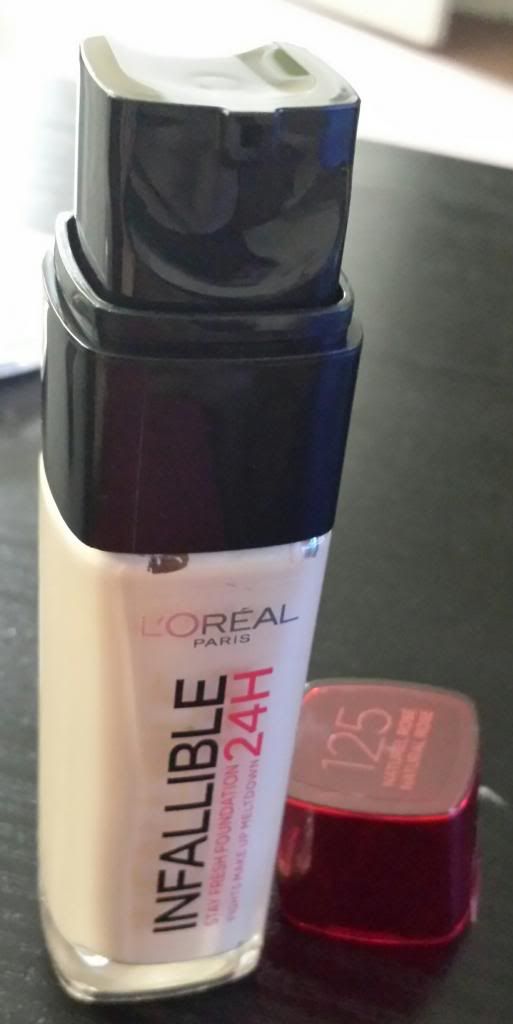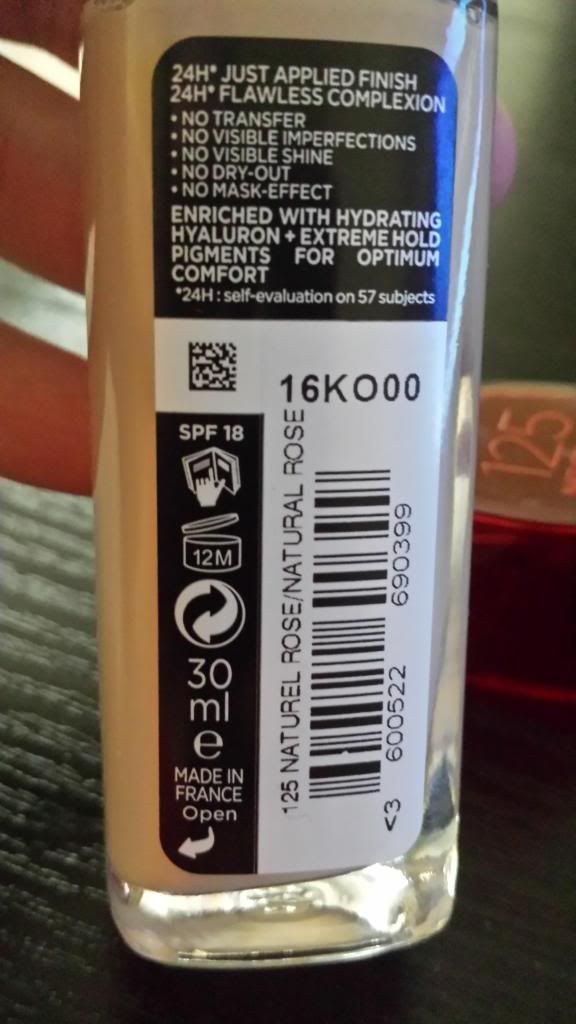 24H Just Applied Finish & Flawless Complexion
No Transfer
No Visible Imperfections
No Visible Shine
No Dry-Out
No Mask Effect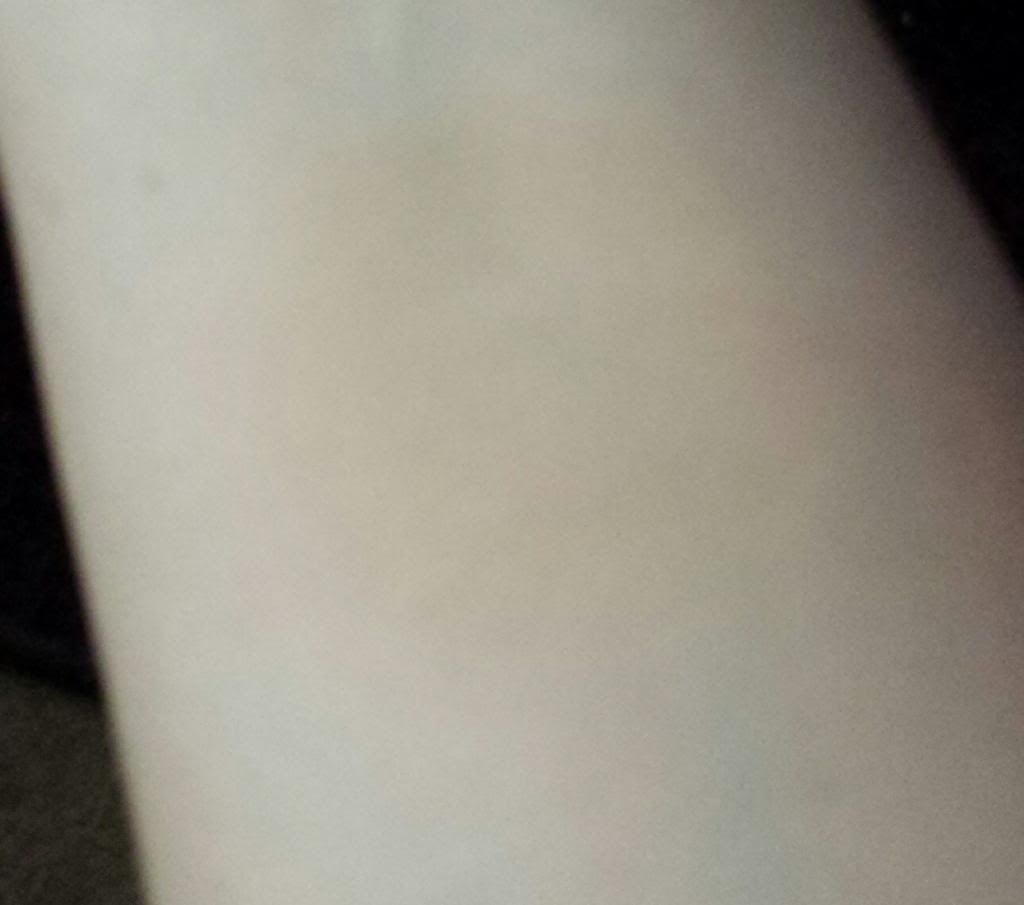 I applied a tiny amount of product for this swatch and amazingly it covered quite a bit of skin which is a nice change. The tone does look a bit dark for my skin but this is because it is done on my inner wrist where you skin is much lighter so ignore that. At first i was a bit unsure about this foundation as the previous one id tried and had a reaction with was a 24 hour based one so i did wonder if it was a revamped make of that.
But i have used it a couple of times now and each time i have had nothing but a enjoyable time with it and with zero reactions which is even better.
REVIEW
Marks Out Of Five
Packaging & Dispenser
★
★
★
I am really liking this foundation and feel it is pretty accurate to the description which makes a change and this is why i gave it full marks on product. The product does not transfer, i wore white and thought at least through the day some would transfer considering the warm weather we had been having and there was zero transfer. There is no shine, dry out or mask effect when using this product. In the past i have used foundations and found the shine was worse than if i had nothing on and it really was off putting, others would feel like they had been caked on and i would feel like i was wearing a face mask rather than a apparent "breathable foundation" but with this i really felt like i had minimal product on my face and it did not feel constricting which was brilliant. Normally there would be imperfections in the foundation mostly around my mouth or nose and with this there was none, it really is a even coverage and really improves your complexion even with the smallest amount of product being used, hence the full marks for coverage.
As for affordability it is pretty reasonable at £9.99 for a foundation and that is generally the cheapest amount i pay but for some they may find it a bit pricey for a drug store foundation. But when you class that with the current 3 for 2 offer it is a steal if you need more than one item.
Size of product is really good and seeing as you do not need to use a lot of product on each usage for perfect coverage, you will find yourselves using this foundation for a while which makes a nice change.
Packaging is pretty normal really but i did like the different coloured lid for some odd reason that was one of the things which drew my attention to the product. Dispenser is the classic type which i have always liked and does not release too much product at each time and there is minimal fall out or loss of product also which again is brilliant.
Overall
Overall i am really happy with this foundation, it covered me perfect, felt like i had barely any product on my face and my skin seemed to glow more with this product, i looked wide awake and ready to take on the world which is something some of my other foundations never did.
L'Oreal Lumimagique Pearl Powder Rose Boudoir
£8.99
There was very little reason me trying to swatch this sadly as it barely showed up which is a good thing i suppose. If it came up quite dark i would be a little worried about getting this product. I had seen this for a while and always wanted to try it as the shimmer is really pretty and it seemed to fit my skin tone flawlessly but i had two other powders at the time and i honestly did not want to spend on something i probably would barely use at the time.
REVIEW
Marks Out Of Five
Product wise i am really pleased, it highlights my skin and gives me a perfect base for my foundation to go on whilst still works really well without being flaky as a setting powder. I find the shimmer shows more when i use it to set my foundation but my skin looks brighter when used under the foundation. Under my eyes is brighter and on my T zones which is brilliant considering how tired i have been recently.
Affordability honestly i am in the middle with this product part of me is thinking it is too high for just a powder and another side is thinking but it highlights and also adds a nice glow/shimmer to your skin so it does have a triple usage so i suppose £8.99 is not really a bad price for it.
Size of product is pretty standard for a powder plus like with the foundation you will find yourselves not using much product which is a bonus.
Packaging sadly is my only let down for this powder as what you see in the photo is what you get and the case is bland and boring, i think i am too use to high end brands now and other drug store brands which like loads of colour. Whilst the outer case is disappointing the inner is really pretty, i love the little bumps around the powder, for some reason i have a thing for powders, blushes and bronzers if there indented.
Full marks of course for coverage because it really does what it is meant to without looking flaky or bulky on the face, there isn't much fall out when applying with a brush either which is a nice change.
Overall
I really enjoy this face powder and this summer it will be my go to for both day and night time usage.
L'Oreal Collection Privee Colour Riche Juliannes Nude
£8.19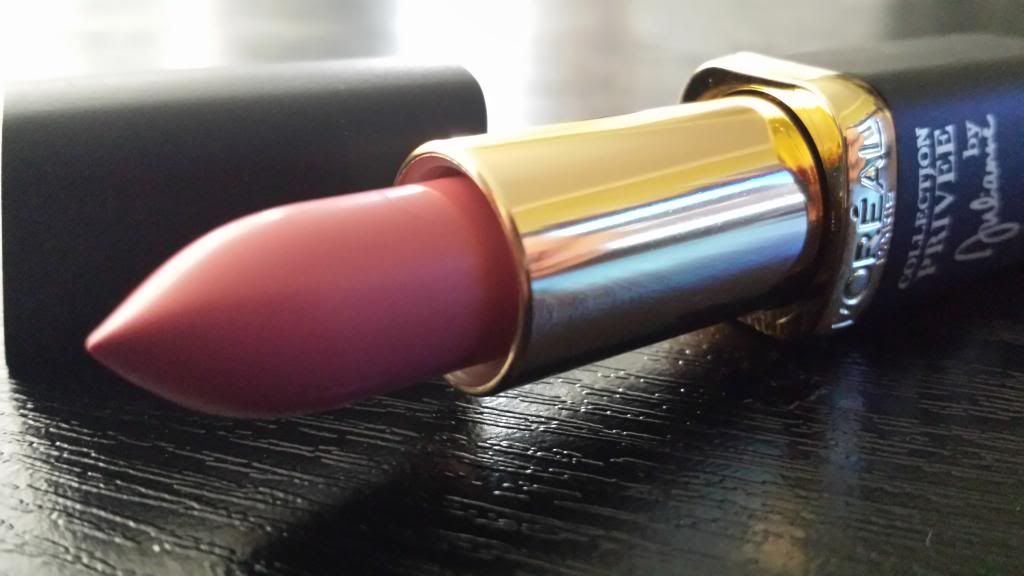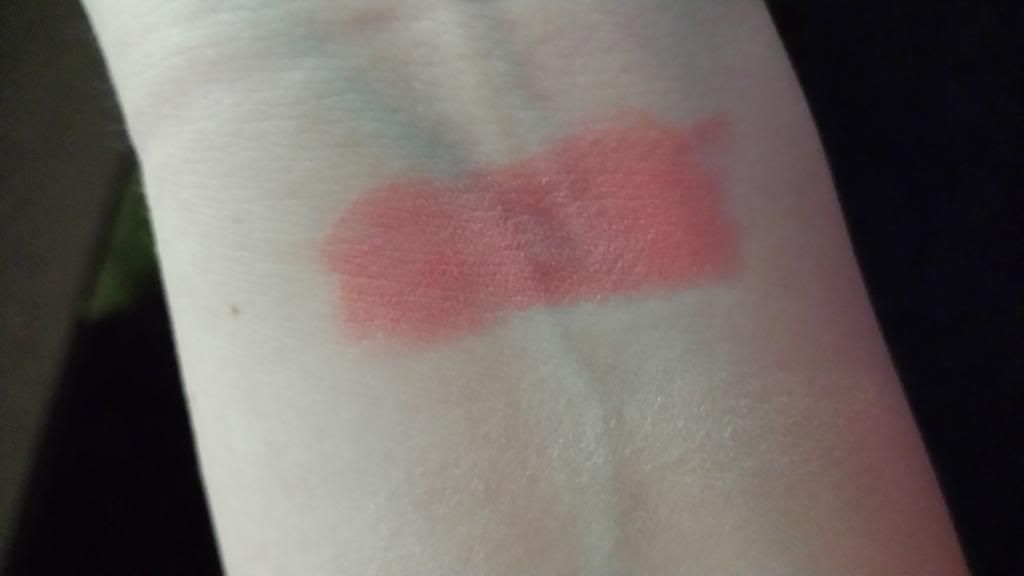 I fell in love with this shade and was a bit confused as it stated nude yet is a more peach/pink to me. It flows on really nice and lasts ages and is not too bright for my lips so whilst it honestly is not a nude it still is light enough to pass as a placid shade.
REVIEW
Marks Out Of Five
Product wise this lip stick is brilliant, smooth on your lips, lasts absolutely ages, no transfer and there is a good range of pretty shades so all in all this product is really good.
Affordability is the clincher of it getting a perfect score, sadly i think it is over priced at £8.19 considering it is just a lip stick and honestly the reason i think it is so much is because of the packaging which is to be honest not a good reason to rack up prices.
Size Of Product is really good, there is a lot in the lipstick and you do not use too much product when applying to your lips.
Packaging is really nice, i love the black and gold trim and also the click when it goes back into place, i am one of these odd people who really likes these small features they tend to add.
Coverage is pretty normal for a lipstick what made it different for me was how long it lasted and how i felt wearing it.
Over All
Over all i really liked this lip stick but i only got it due to it coming free with the other two products, honestly i do not think i would pay that much just for a lip stick not when there are other alternatives around a bit cheaper, it is one thing spending a tenner or more on a foundation or powder or anything but anything else like a lip stick, i think i would have to go into a splurge moment to buy anymore.